This article was last updated on June 10, 2022
Cryptocurrencies have become a hotly debated topic and one of the most popular assets in the investment world. However, in order to invest in crypto, you will need a certain level of technical know-how and understanding. Because this new form of currency is highly technical, it can be tricky for everyday investors to diversify their portfolios with crypto. Additionally, investing in crypto often involves additional steps other than simply buying it. One such step is storing your cryptocurrencies in the right wallet in order to keep them secure. This can also be confusing to many as there are multiple options out there, each with its own pros and cons. Supported assets, level of security, and ease of use are all things to consider when choosing a wallet. This prompted us to compile this list of the best crypto wallets in Canada to use with Bitcoin and other popular cryptocurrencies.
What Are Crypto Wallets?
Crypto wallets are digital wallets that store your cryptocurrencies and other crypto assets. There are various types of wallets, such as hardware, software, browser, desktop, mobile, and others. Each one of these offers varying degrees of security and convenience. However, most are available globally and should be usable even by customers in Canada.
Wallets work by storing your public and private keys. This allows you to gain access to your crypto assets which are located on the blockchain. Because private keys are long and complex combinations of letters and numbers, wallets will often allow users to set up simpler passwords for easier access. However, choosing too simple a password can lead to reduced security.
Other than storing your private keys, wallets also provide you with a public address. This enables other users to transfer cryptocurrencies and other assets to your wallet. Public addresses serve to allow people to easily find each other's wallets and transfer assets between them.
Not all wallets support every cryptocurrency out there. Because there are so many currencies built on different technology, wallets often support only a specific group that shares the same building blocks. For example, the popular wallet MetaMask only supports Ethereum and Ethereum-based cryptos. As such, the crypto wallet is not compatible with Bitcoin.
Types Of Crypto Wallet
As we mentioned above, there are different types of crypto wallets. Each one of these offers different features and has both its advantages and disadvantages. You should carefully consider each type when choosing your wallet so that it can best suit your particular needs and requirements.
Hardware Wallets
Hardware crypto wallets are the most secure option out there. They come with a physical authentication device, often resembling a USB thumbstick. Every time the user wants to access their wallet, they will need to connect this authenticator to their computer or mobile device. This, in combination with the proprietary software that such wallets come with, gives users secure access to their assets.
Because the device is necessary to gain access to your wallet, it makes it incredibly difficult for bad actors to breach it. In order to do so, they would need to have physical access to your authenticator and your device. This added layer of security prevents remote attacks and ensures the security of your assets.
The one drawback of hardware wallets is that they often require a larger investment and commitment. Because they are physical devices that come with proprietary software, hardware wallets are paid products. As such, an investment is necessary if you want that added layer of security. In most cases, this investment will not be a small one, as many hardware crypto wallets come at a high price. What's more, because the authenticator is required in order to gain access to your assets, it means that you will always need to have it on hand should you wish to make transfers.
Software Wallets
Meanwhile, software wallets are a much more accessible option. They come in all shapes and sizes, giving users flexibility and ease of use. Software wallets often require minimal investment as they are almost always free to use. Additionally, the setup process is simple, requiring a simple download and installation. As such, software wallets are available on most devices like computers, smartphones, and tablets.
Because users cannot store their cryptocurrencies without a wallet, a software one is usually the default option that most investors end up with. There is great diversity among software wallets, and various types exist in this category. Again, each one has its own pros and cons.
Platform Wallets
Platform wallets are the default wallets that come with your account on an online trading platform or crypto exchange. Many of the most popular platforms offer such a service. This allows users to easily buy and store their crypto assets on the same account with minimal effort. It simplifies the entire process and makes it much more accessible to newcomers. It also eliminates the hassle of setting up and managing multiple accounts across different platforms.
However, platform wallets are not exactly crypto wallets. Because most of them do not actually provide you with public keys, you are unable to transfer your assets outside of the platform. Furthermore, you won't be able to receive assets from other people. Instead, such services serve simply as a way for you to store your assets on the platform.
Platform wallets are also much less secure than dedicated crypto wallets. Because they come without private keys, your platform account password is the only credential you need to gain access. Furthermore, the platform holder often has control over your assets in such situations.
Browser Extension Wallets
Browser Wallets are likely the most popular form of dedicated software wallets. They usually come as browser extensions, making them very easy to use and available at all times. Extension wallets often appear as a pop-up window in your browser, making them easy to use. Whatever website you are trading on, your wallet is always one click away.
When it comes to browser wallets, the one disadvantage is that your private keys are stored in your browser storage. This means that you will need to use the computer and browser you installed the wallet on in order to access your assets. This can limit users who have multiple devices or are constantly on the go.
Desktop Wallets
Desktop wallets are another form of software wallet that people use on their computers. However, these are dedicated apps installed on your desktop. As such, they store your private keys on your local hard drive. This means that they also restrict access to the device where you are logged in with your seed phrase. However, desktop wallets are often well optimized and allow you to manage a large variety of crypto assets from a single platform.
Mobile Wallets
Mobile wallets are the portable version of desktop wallets. Instead of installing them on your computer, you will be able to install such wallets on mobile devices such as smartphones or tablets. This makes them more convenient than desktop wallets as mobile devices are more readily available and easier to carry around.
As such, mobile wallets provide you with both security and convenience. They are the most popular type of crypto wallet due to the widespread adoption of mobile devices and access to mobile internet.
Best Software Crypto Wallets In Canada
Software wallets are some of the most popular and widespread in the sector. This is because they are simple, easy to use, and widely available. Software wallets are also mostly free, meaning that you won't have to make a financial commitment prior to signing up. Here are some of the best software crypto wallets to use in Canada:
Exodus is one of the most popular software wallets on the market. It supports over 180 different cryptocurrencies, with new ones being added on a regular basis. The platform also allows users to convert their cryptocurrencies into other ones directly from their wallet app without needing to sign up. This added functionality is great for those with more limited needs, who might only need to exchange their cryptos every now and then.
Exodus also has both mobile and desktop apps, meaning that you will be able to access your wallet from most devices. Furthermore, the Exodus platform is fully integrated with the Trezor hardware wallet, allowing users of the two to combine their functionality. All of this is provided in a simple and easy-to-navigate user interface.
Electrum is one of the oldest and best Bitcoin wallets in Canada. The app has been around for more than 10 years and has a proven track record of providing users with excellent services. As such, the wallet is incredibly reliable, being widely regarded as one of the most trustworthy and best wallets for Bitcoin. It also allows for a fair bit of customization, giving users the option to set how much they are willing to pay for a transaction. The more they offer, the quicker it will be validated.
However, because of its age, Electrum can be a bit clunky and hard to navigate at times. This makes it less user-friendly, and it can be difficult for new users to get their bearings. Additionally, Electrum is only limited to Bitcoin. While this might have been the norm in 2011, today's crypto landscape is much more diverse. Investors often have versatile portfolios containing numerous different cryptocurrencies and crypto assets. This means that Electrum has limited functionality and might not be the go-to choice for many.
MetaMask is arguably the most popular and widely used Ethereum wallet in the world. It is also the best software crypto wallet choice for Canadians. MetaMask mainly operates as a browser extension, however, mobile apps are available for both iOS and Android. Because of the Ethereum network's wide adoption in building other crypto networks and technologies, MetaMask is compatible with most of the popular altcoins on the market. This makes the wallet incredibly versatile and rich in features. Aside from allowing you to store currencies and tokens, MetaMask also supports NFTs.
As a browser extension, MetaMask is always present in the top-right corner of your screen. With its simple UI and design, connecting and using MetaMask is effortless. The app is available for Chrome, Firefox, Brave, Edge, iOS, and Android. As such, you will be able to use the wallet regardless of your preferred device or web browser.
Another mobile app, Trust Wallet, is an incredibly versatile mobile wallet. It supports 53 different blockchains and over 1 million crypto assets. These include cryptocurrencies, DeFi tokens, non-fungible tokens (NFTs), DApps, and more. The wallet also allows users to stake their cryptos directly through the app, giving them an easy way to earn more. Meanwhile, the dApps browser function allows you to browse and interact with various decentralized apps integrated with the Trust Wallet.
Currently, you can use Trust to stake Tron (TRX), Tezos (XTZ), Cosmos (ATOM), Kava (KAVA), Osmosis (OSMO), Binance Coin (BNB), Terra (LUNA), and Algorand (ALGO). Ethereum is also expected to become available once the network completes its transition to proof-of-stake.
Finally, Trust also has an integrated CEX platform that allows users to exchange their cryptos directly in their wallets. While this is a nice feature, it is only limited to BNB and other BEP2 tokens. This is mainly because the feature is powered by Binance, whit which Trust partnered in 2018.
ZenGo is a great crypto wallet for beginner investors in Canada. The main thing that sets it apart from competitors is that Zen uses biometric data to allow access to users' assets. This means that you don't need passwords, seed phrases, or physical authenticators when using ZenGo. Instead, you can log in using either a face scan or a fingerprint scan. This, coupled with ZenGo's industry-leading encryption, provides customers with excellent security and protection against theft.
The app supports over 70 different cryptocurrencies, which is more than enough for most beginner investors. It also offers a number of other services like buying and trading assets, crypto staking, crypto lending, NFT storage, and more. A referral program is also available, rewarding you with $10 worth of bitcoin for each new user you attract.
One of ZenGo's main selling points is its emphasis on security. The platform employs a three-step verification process that ensures the security of your assets. First, a verification email is sent on every login attempt. Next, a recovery file is created and stored on your device's cloud storage solution. While not a seed phrase, the file works in a similar fashion. However, you cannot use it alone to gain access to your account. The other two steps will also be necessary. Lastly, a facial or fingerprint scan is used when logging in.
Best Hardware Crypto Wallets In Canada
While software wallets provide users with an increased level of security, those who are after the maximum protection will want to opt for a hardware option. Hardware wallets offer the most rigorous protection to their users, virtually eliminating the possibility of breaches. Here are some of the best hardware crypto wallets in Canada: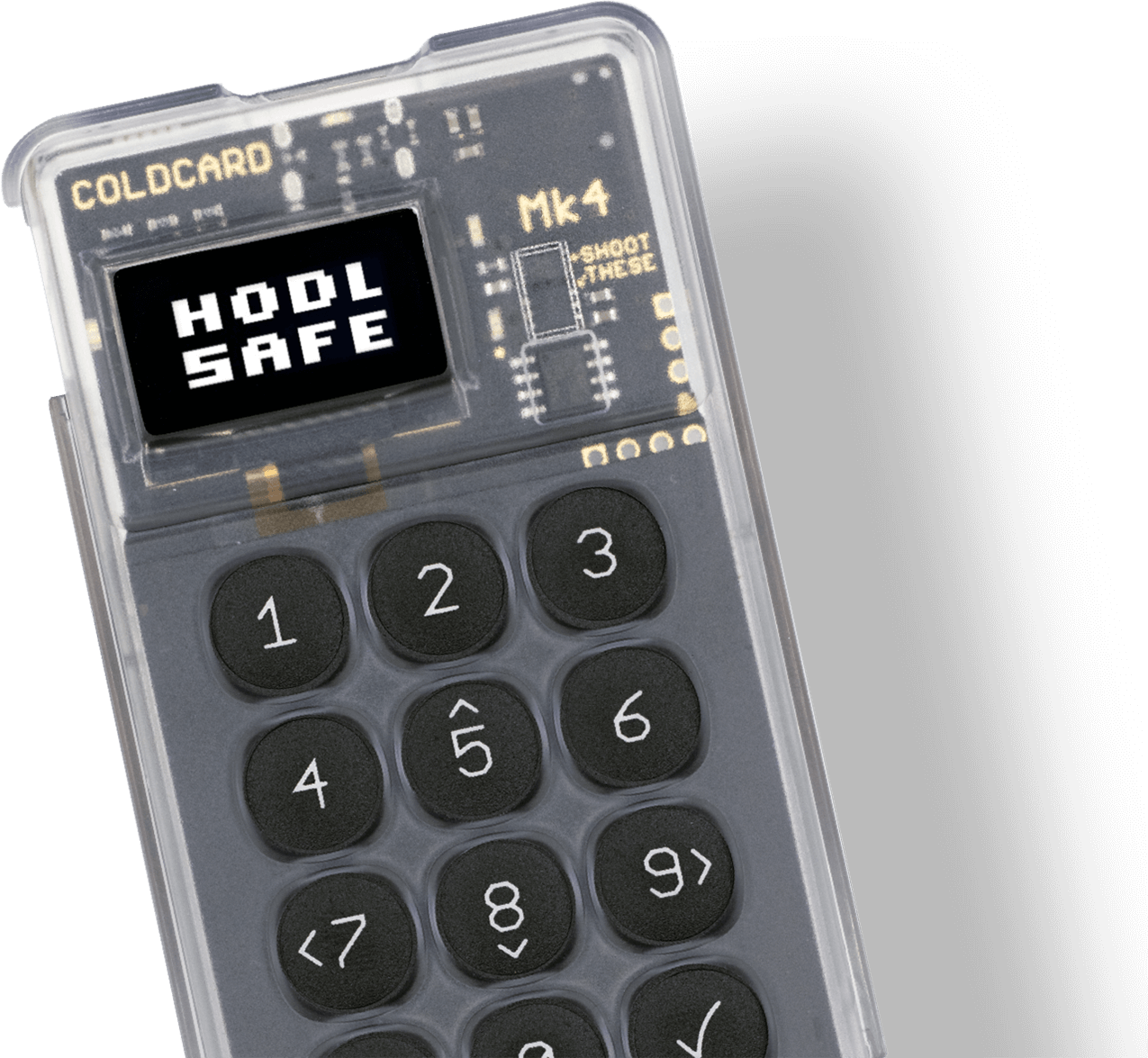 Coldcard is a Canadian-made hardware wallet that offers cold storage to users. With its minimalistic yet advanced design, Coldcard allows you to take advantage of its many features while still keeping things simple. On the outside, the device looks like an old-school calculator, with a full-sized keypad and a transparent chassis. Meanwhile, its simple black display is actually a state-of-the-art OLED panel, providing great detail and brightness.
The wallet has onboard memory, which is used to store your private keys. However, it also allows for MicroSD cards, which you can use to back up or move your data. Other features include a USD-C connector for charging and near-field communication (NFC) technology. Lastly, the device comes with a special "duress pin", which, when entered, presents a fake wallet. This is meant to throw off any criminal activity and keep your assets secure. However, you will need to fund the fake wallet with some amount of currency as well if you want it to be convincing.
While Coldcard is ultra-secure, the wallet only supports Bitcoin. This means that you won't be able to use it for any of your other cryptos or assets. Additionally, you will need to pair it with a software wallet like Electrum. However, Coldcard is an incredibly affordable and safe option thanks to its complete transparency and open-source code. As such, it is arguably the best Bitcoin wallet in Canada.
The Trezor Model T is one of the most highly regarded and widely trusted hardware wallets out there. It offers unparalleled security and ease of use. Trezor offers offline cold storage for your private keys, keeping your data away from potential hacks. The device runs a top-of-the-line software suit, audited by a number of cryptography and security experts. As such, it is one of the most secure options on the market.
The wallet natively supports over 1000 cryptocurrencies, with new ones being added on a regular basis. Additionally, Trezor can be integrated with MetaMask to allow for an even greater number of Ethereum-based assets, including NFTs. However, all of this functionality does come at a cost, as Trezor is in the higher end of the price range.
The Ledger Nano S is another great hardware option. This one is a bit more compact, resembling a standard USB thumbstick. On it, you will find an OLED display used to approve and monitor transactions. The wallet supports a number of cryptocurrencies, as well as NFTs and various other assets. It also comes with access to the overarching Ledger platform. This allows users to buy, exchange, and stake various cryptos directly from their Ledger Nano wallet and app.
Ledger Nano S is a great option for those who are constantly on the move and need a hardware wallet with a minimal footprint.
Closing Thoughts On Crypto Wallets In Canada
There you have it, some of the best crypto wallets for users in Canada. As you might have guessed, there is no one clear winner. Instead, there are leading brands and services. Each one of these offers some kind of unique selling point or feature that sets it apart from the competition. Each crypto wallet caters to a specific audience and its needs.
As such, you should always consider your personal preferences and requirements when choosing which crypto wallet to go with. While software wallets are more convenient, they are also more susceptible to breaches. Hardware wallets, on the other hand, provide users with the highest degree of security. However, such a wallet comes with a physical authentication device that you will always need to have on hand.
Best Crypto Wallets In Canada FAQ
What Is A Crypto Wallet?
A crypto wallet is a software application or hardware device that allows you to store, transfer, and receive cryptocurrencies. While cryptocurrencies technically exist on the blockchain, a wallet is the interface that you use to gain access to your assets.
How Do Crypto Wallets Work?
Crypto wallets give users access to their cryptocurrencies and other digital assets. While these are stored and exist on the blockchain network, a wallet stores the user's private keys, which validate their ownership and grant access. Additionally, wallets provide users with a public address used for transactions with other people.
What Is the Safest Crypto Wallet In Canada?
There is no one best crypto wallet. There are all kinds of wallets available, each with its own pros and cons. Deciding which one to choose depends on your own personal needs and preferences. Generally, hardware wallets provide the greatest level of security as they are physical authentication devices.
Are Hardware Wallets Worth It?
Hardware wallets are often quite expensive. This is in stark contrast to software options which are generally free to download and use. However, hardware wallets offer a much greater level of security that makes breaching your wallet almost impossible. As such, the investment is oftentimes worth it, especially if you have a large portfolio of crypto assets.
Read Next: Most Addordible Cryptos To Invest In